What you need to know about living with HIV in later life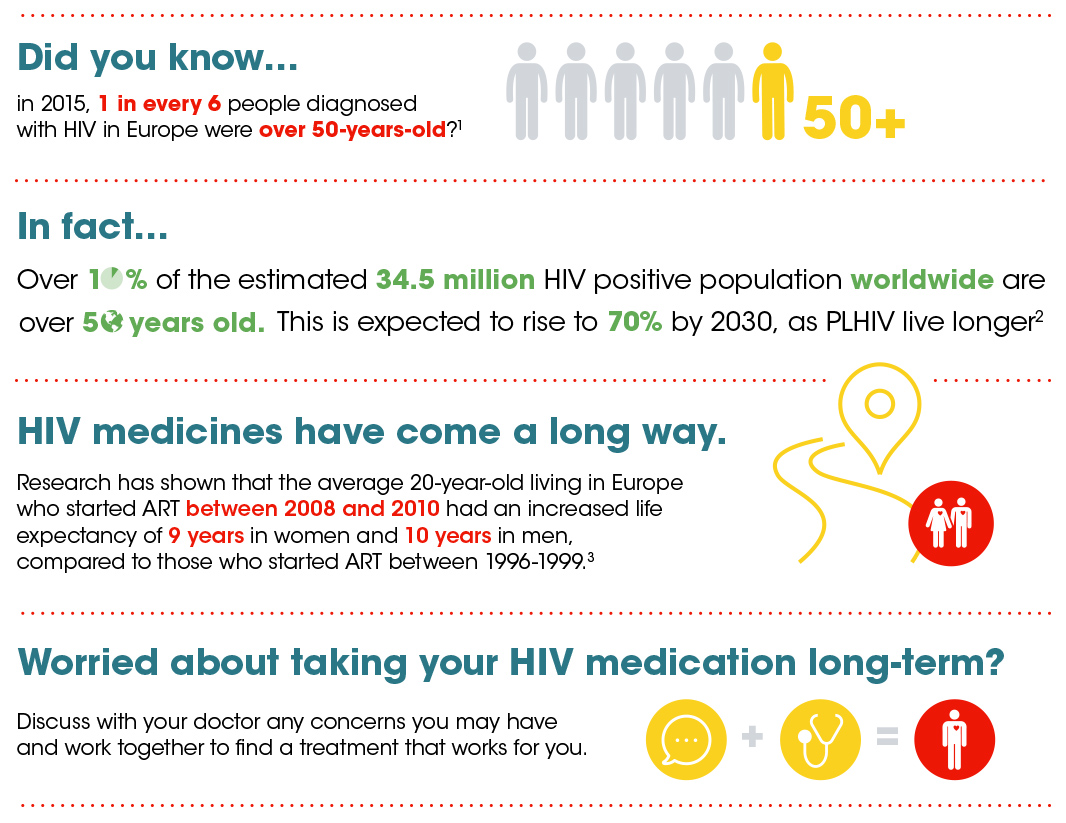 If you've recently been diagnosed with HIV or have been living with it for several years, it's important to stay up to date with the latest research and information on the disease and the treatment options available.
As HIV is a lifelong disease, you'll likely have many questions on what to expect as you move through different stages of life. Click on a question below to find out more about living with HIV when you are over 50-years-old. Don't forget, it's important to talk to your doctor about any concerns you may have.
Living with HIV has changed dramatically since the introduction of ARTs in the 1990s. As of 2016, more than 10% of the 34.5 million HIV-positive population worldwide are over 50-years-old.2 This number is expected to rise to 70% by 2030, as PLHIV live longer.2

Research has shown that people taking ART are now likely to live about as long as people without HIV.3 This estimate was based on an average 20-year-old European starting ART between 2008-2010, compared to starting treatment between 1996-1999. The study estimated that women on ART were expected to live 9 years longer, and men on ART, 10 years longer.3

A recent study has shown that between 2004 and 2015, 54,102 people over 50-years-old were diagnosed with HIV.1 In 2015 alone, 1 in every 6 people diagnosed with HIV were over 50-years-old.1

Recent research has shown that PLHIV may be at a higher risk compared to HIV-negative people of developing other health conditions, such as cardiovascular disease (conditions affecting the heart and blood vessels), liver and kidney disease, osteoporosis (weakening of bones) and some non-AIDS related cancers.4

Whilst the risk has been shown to be higher compared to HIV-negative people, PLHIV are living longer and the increased risk of developing these conditions can also be attributed to older age.4

If you are already living with other conditions alongside HIV, your doctor will help you to manage these. You should also always take your HIV medication as prescribed. This will help keep your viral load down and reduce your risk of developing other conditions. You can find out more about taking HIV treatment in our What you need to know about long-term treatment article.

During the 1990s, early on in the HIV epidemic, the US Centers for Disease Control and Prevention (CDC) defined 50 years of age as the lower threshold for 'older' people with HIV.5 This was because at the time, the average age of HIV-positive people was much lower then 50 years-old.5 Whilst it may not be as relevant now following the introduction of HIV medications (antiretroviral therapies, or ARTs), the definition has continued to be used in research and population studies worldwide.
Tavoschi L et al New HIV diagnoses among adults aged 50 years or older in 31 European countries, 2004-15: an analysis of surveillance data. European Centre for Disease Control.
Wing EJ. HIV and aging. International Journal of Infectious Diseases. 2016. 1201-97.
The Antiretroviral Therapy Cohort Collaboration. Survival of HIV-positive patients starting antiretroviral therapy between 1996 and 2013: a collaborative analysis of cohort studies. 2017.
Gallant J, Hsue PY, Shreay S, Meyer N. Comorbidities among US Patients with prevalent HIV infection-A trend analysis. J Infect Dis. 2017;216(12):1525-1533.
Gebo KA. HIV infection in older people (Editorial). BMJ. 2009;338:1455-6.